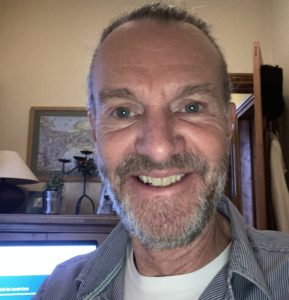 Hi! My name is Mark Bayliss.
I joined PIONEER in mid September 2021 as a Business Change Analyst. My role is to ensure any changes made to our systems or processes are embedded quickly and safely, and have the best possible impact. PIONEER is a fairly new project meaning we're continuously improving processes to make sure the highest quality clinical data is prepared and shared for every approved Data Request that we receive.
I am new to healthcare and working with health data. My background has been predominantly as an IT Business Analyst in manufacturing – working with the best coffee, chocolate and vehicle manufacturers as a few examples! – to meet customer requirements and expectations. This meant delivering what was agreed, when it was agreed and in the right format to do the job. These are important business values which I'm proud to bring to PIONEER.
Working with PIONEER means that I can help improve peoples' lives by making sure the data used in healthcare projects is of the highest quality possible, so that any new discoveries are accurate, based on data which represents our population and can benefit as many people as possible. Work doesn't get much more rewarding than that!
In any role it is important to always have in mind 'The End Goal' and the importance of our day-by-day activities supporting that goal. PIONEER's end goal is to improve the health of patients through research and innovation, and this resonates strongly with me. I had some work experience in domiciliary care, working alongside a care worker out in the field to help older people in their homes. I saw first-hand how difficult life could be for people with complicated health concerns, and that more research was needed to improve their care and treatments.
Both in my home life and work life, my values are always to care for others – whether it be organising away days with friends and family on what I call our 'new adventures', or being open and honest when working as a team to support reaching our end goals.
I'm really happy to be a part of the PIONEER team, using my skills to ensure that clinicians, university researchers and companies receive the vital de-identified data that they require to support their research into unplanned illnesses.
I am grateful that I work with so many people with differing areas of expertise – from the clinical team who help explain the research question being asked, to the patients and our fantastic public members, who explain how they see the potential benefit of the research, to the expert data and computer teams.
Since I've been working with the team, it's been reassuring to learn how strictly PIONEER's very sensitive patient data is controlled and managed. People really can feel confident in the processes we have in place – we ensure the privacy and personal details of individuals are protected, and only the necessary data is shared with the researcher in a secure environment. Not only that, but the decisions relating to data access don't actually sit with the management team – it's over to the public and patient oversight group, the Data Trust Committee. And they are not shy to decline a request if it doesn't meet their high standards, although this doesn't happen very often.
It is a privilege to be part of this team.  I feel the projects we support really do help improve peoples' lives so that people can continue to enjoy doing what they love in life!