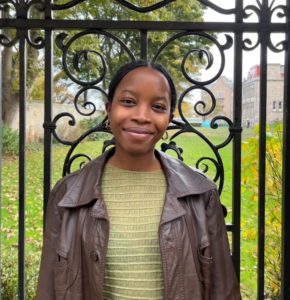 Health Data Research UK's Black Internship Programme is an exciting endeavour for early-career Black data scientists – a group heavily under-represented in the health data science sector.
The programme, run in partnership with the UK Health Data Research Alliance  and 10,000 Black Interns, aims to tackle under-representation as well as providing motivated candidates with the experience they need to kick-start their career in science, technology, engineering, and mathematics (STEM).
As a rapidly-expanding field with the recognised potential to transform the future of health and care for all, health data science has an urgent need for new scientists. For health data science to be effective, it's important the workforce reflects the population it serves.
We spoke to student Eniayo Adeniji who recently completed her internship with PIONEER, the Health Data Research Hub for Acute Care, which aims to improve healthcare and the health service by understanding the symptoms, diagnoses, treatments and outcomes people experience when they become suddenly unwell.
"I feel very grateful to have spent 8 weeks working with the PIONEER Health Data Research Hub this summer, as part of HDR UK's Black Internship Programme.
"As someone who studies English and Psychology at University, it was a real privilege to have been given such a comprehensive introduction into the world of health data science. I learned about the revolutionary, life-saving impact Artificial Intelligence and Machine Learning is making on today's population, and the ways in which PIONEER is contributing to this.
"I feel incredibly lucky to have been working with such a welcoming and skilled group of people. Through one-on-one sessions and group meetings with different members of the team, I was taken through their varying roles and gained valuable insight into how a Health Data hub like PIONEER operates.
"My time with PIONEER began with training in data protection and learning the importance of patient privacy and protection. After this, I received training in multiple pieces of software, such as Azure Data Studio, Power BI, and Excel. I learned how to use SQL to 'wrangle data' and become much more confident in my analysis skills.
"Through supervised tasks and activities, I felt very supported by the team, and this encouraged me to ask questions and for help when needed.
"Now that my internship has ended, I believe myself to be a more well-rounded person, and look forward to utilising the data science skills I gained in the future.
"I'd recommend the programme to anyone who is looking to kick-start their career in STEM or explore the rapidly expanding world of data science!"
For information on how to apply for the 2023 internship, please read HDR UK's Information for applicants or register for their webinar on Wednesday 7 December 2022.